Jockey Kent Desormeaux had not won the Santa Anita Handicap (G1) since 2002, and Stilleto Boy  hadn't won a race in nearly a year. But putting them together in this year's edition proved a golden combination, as the two veterans eked out a photo-finish victory at the last possible second.
It was not an easy trip at nearly any point of the 1 1/4-mile event, the 12th and final race on the March 4 Santa Anita card. When the gate opened, Desormeaux let Stilleto Boy run, and the 5-year-old gelding took the early lead. But it didn't last long.
"They literally shut me off; otherwise I was going to stay there," Desormeaux said.
Defunded  and Hopper , trained by Bob Baffert, forged to the front, leaving Stilleto Boy in third as Defunded completed the first quarter-mile in :23.34. Warrant  also passed Stilleto Boy, as did There Goes Harvard . Stilleto Boy was running fifth while Desormeaux searched for the lane that would make his mount comfortable.
"I changed paths, and the dirt was hitting him square in the face," Desormeaux said. "He kind of wasn't enjoying himself, so I went back to where I was and he leveled off and went forward again."
Trainer Ed Moger Jr. didn't like what he was seeing.
"We thought he might make the lead," Moger said. "Then he got shuffled back, and I could see he was kind of climbing a little bit on the backside. I wasn't really liking it down the backside."
Defunded and Hopper dueled with each other into the second turn, heads apart. By the time they reached the stretch, Defunded was outrunning his stablemate.
"I saw Defunded rolling, and I thought it was going to be hard to catch him," Moger said.
Stilleto Boy had no intention of giving up,. He pulled alongside Defunded, but then came Proxy , who made a late run from eighth to thrust himself into the mix. Those three raced toward the wire, with a photo necessary to show Stilleto Boy the winner over Proxy by a neck. Defunded finished a half-length back in third, and Hopper was fourth. Stilleto Boy stopped the timer in 2:01.96 in winning the $502,000 race.
Moger trains Stilleto Boy for his brother, Steve, who bought the Kentucky-bred gelding for $420,000 at the 2021 Fasig-Tipton July Selected Horses of Racing Age Sale. Before that sale, Steve did not tell Ed he planned to buy Stilleto Boy because he knew his brother would try to talk him out of it.
The connections of Stilleto Boy in the winner's circle
"He bought him without me even knowing," Ed said. "He didn't want to call me because he knew I'd say no."
While Stilleto Boy does not win often—the Santa Anita Handicap is only his second victory for the Mogers—he consistently earns a check. He collected first win photo for his new connections in the Californian Stakes (G2) on April 30, 2022.
Between the Californian and the Santa Anita Handicap, Stilleto Boy started five times, placing in three stakes, including the Dec. 26 San Antonio Stakes (G2) and the Jan. 28 Pegasus World Cup Invitational (G1). It was his second consecutive third-place finish in the World Cup. Life Is Good   and Knicks Go   beat him in the race last year, and Art Collector  and Defunded outfinished him in this year's edition.
With the Santa Anita Handicap, his first win in a grade 1, Stilleto Boy increased his bankroll to $1,711,675.
"We've had a lot of fun," Ed said. "We've only won two races with him, but we've had a blast. I feel like we've won a hundred races with him."
John and Iveta Kerber bred Stilleto Boy, a son of Shackleford —Rosie's Ransom , by Marquetry . The Kerbers began racing Stilleto Boy at Prairie Meadows, bringing in a few partners along the way. In his final start for them, the gelding won the 2021 Iowa Derby.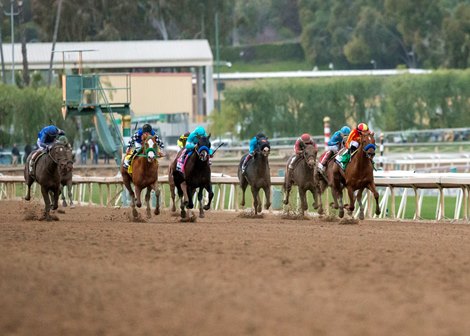 Stilleto Boy (second from left) rallies down the lane in the Santa Anita Handicap
Stilleto Boy broke his maiden at Oaklawn Park in 2021, and the Mogers said that the future could hold a return to that track for next month's Oaklawn Handicap (G2). Other possibilities include the June 10 Metropolitan Handicap (G1) at Belmont Park.
"I've been telling everyone that he is the best horse in racing," Moger said. "I really think he is the best horse. The race in the Pegasus was a really strong race, and we had him go out of the 11 hole that day. Defunded barely beat us that day, so I knew we could beat him because we had beaten him before (in the 2022 San Diego Handicap, G2, when Stilleto Boy ran third and Defunded finished seventh). I thought he could win, and he's been training great."
While this was the first Big 'Cap win for the Mogers, it was the third for Desormeaux. The Hall of Fame rider first captured the race in 1992 with Best Pal. Ten years later, he added his second, aboard Milwaukee Brew .
Video:

Santa Anita H. presented by Yaamava' Resort & Casino (G1)