LEXINGTON, Ky. – The Kentucky STUNT team will host some of the nation's best teams this weekend in the Bluegrass STUNT Classic at Memorial Coliseum. The Cats will host Central Michigan, California Baptist, Davenport, Tiffin, Drury and Ashland during the tournament.
Play gets underway on Friday with Central Michigan facing top-ranked Cal Baptist at Noon ET. Kentucky will play once on Friday, facing Davenport, which is ranked second in the country in Division II. That game will be at 2 p.m. ET.
Saturday, the tournament will begin with Drury versus Ashland at 10:00 a.m. ET. Kentucky will honor its seniors during the Senior Day celebration at approximately 12:20 p.m. ET. Following that, the Cats will play Tiffin at 1:00 p.m. ET. Kentucky will also play in the final game of the event, facing defending national champion Cal Baptist at 4:30 p.m. ET.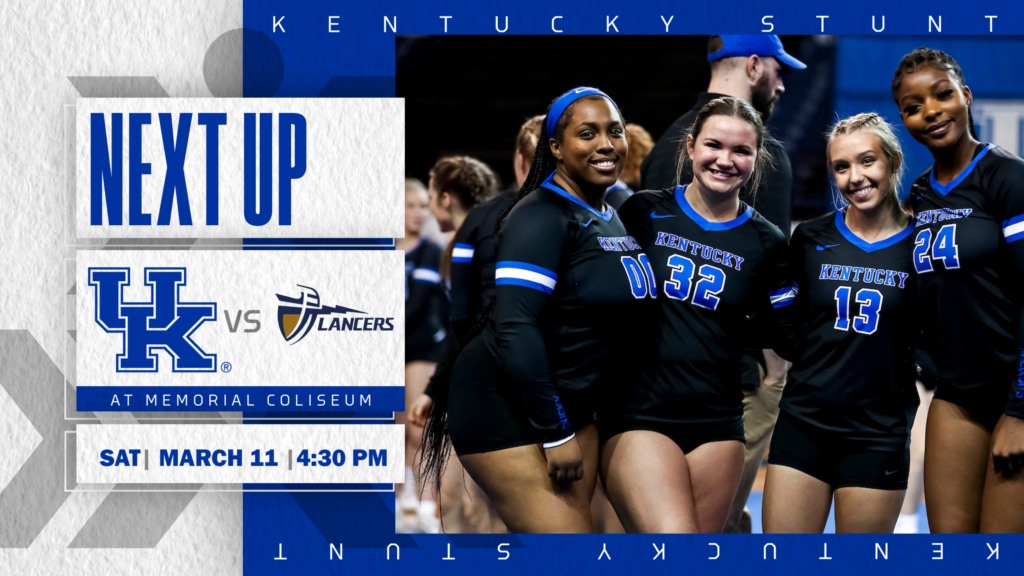 All games will be streamed by on SEC Network Plus.
The doors at Memorial Coliseum will open to the public one-hour prior to competition beginning and admission is free. Fans should enter on the Lexington Ave side of Memorial Coliseum.
STUNT is a head-to-head competition between two teams that focuses on the technical and athletic aspects of cheer. It is one of the fastest-growing female sports in the United States. Kentucky is one of 62 universities, including NCAA and NAIA varsity and club teams, that are sponsoring the sport for the 2023 season.
Friday, March 10
12 p.m.                Central Michigan vs. Cal Baptist
1 p.m.                  Open
2 p.m.                  Kentucky vs. Davenport
3 p.m.                  Drury vs. Central Michigan
4:30 p.m.             Cal Baptist vs. Ashland
5:30 p.m.             Tiffin vs. Drury
6:30 p.m.             Davenport vs. Tiffin
Saturday, March 11
10 a.m.                Drury vs. Ashland
11 a.m.                Davenport vs. Cal Baptist
12 p.m.                Open (UK Senior Day)
1 p.m.                  Kentucky vs. Tiffin
2:30 p.m.            Central Michigan vs. Ashland
3:30 p.m.            Tiffin vs. Central Michigan
4:30 p.m.            Kentucky vs. Cal Baptist