With the Europa League and Europa Conference League last-16 ties getting under way on Thursday, Sky Sports' football writers look at the big talking points.
Europa League and selected Europa Conference League last-16 fixtures
Union Berlin vs Union Saint-Gilloise – kick-off 5.45pm
Bayer Leverkusen vs Ferencvaros – kick-off 5.45pm
Roma vs Real Sociedad – kick-off 5.45pm
Sporting Lisbon vs Arsenal – kick-off 5.45pm
Juventus v Freiburg – kick-off 8pm
Man Utd vs Real Betis – kick-off 8pm
Sevilla vs Fenerbahce – kick-off 8pm
Shakhtar Donetsk vs Feyenoord – kick-off 8pm
AEK Larnaca vs West Ham (ECL) – kick-off 5.45pm
Man Utd look to bounce back from Anfield annihilation
Manchester United vs Real Betis, kick-off 8pm
How do you respond to being thrashed 7-0 at the home of your biggest rivals? It's not the kind of result you can just forget about or even move on from after a day or two of soul searching.
The only way Manchester United can recover from that humbling at the hands of Liverpool is to get back on the horse and start winning again.
Fortunately for Erik ten Hag's side they don't have to wait long for their first opportunity to get that win on the board, with Real Betis visiting Old Trafford on Thursday in the first leg of their Europa League last-16 tie.
FREE TO WATCH: Highlights from the Premier League match between Liverpool and Manchester United

A victory over the side currently fifth in LaLiga won't scrub the events at Anfield from the memory, but it would get United back on track and boost their chances of a clean sweep in the cup competitions this season.
However, another negative result – this time in front of their expectant supporters – and fears will only grow that the brittle mentality that helped to scupper Ole Gunnar Solskjaer's time in charge remains lurking among Ten Hag's team.
Joe Shread
Joaquin finally dances with the devils aged 41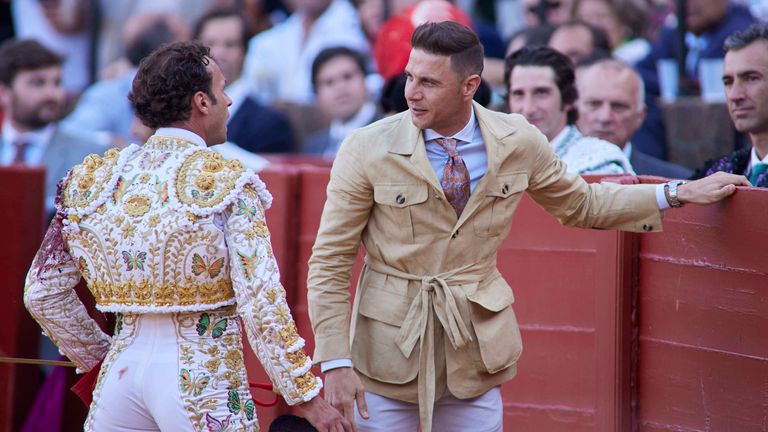 Last summer, Joaquin Sanchez decided against retirement, opting to play beyond his 41st birthday. It is for nights like these, under the lights at Old Trafford, that the club icon decided to extend his Real Betis love affair.
During the 2010/11 season at Valencia, Unai Emery overlooked Joaquin on both occasions they faced Manchester United in the Champions League group stage. Belatedly, he has his chance to dance with the devils.
Since his professional debut in 2001, the veteran wide man has earned 52 caps for Spain but many supporters expected him to bow out of the game after Betis' Copa del Rey triumph last season – the third time he has won the competition in his career.
Under Manuel Pellegrini, the former Manchester City manager of course, he would love to add another magic moment in the Theatre of Dreams.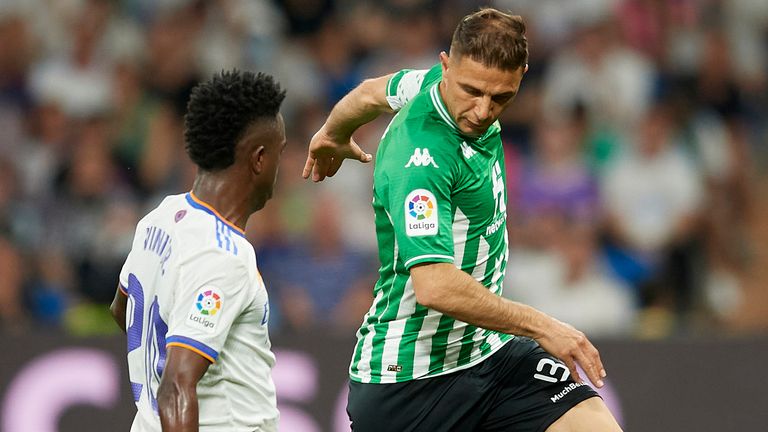 The Andalusians kept a clean sheet against Real Madrid at the weekend but the supply line to striker Borja Iglesias has dried up. The 30-year-old has just two goals in his last 13 appearances. Joaquin's last five appearances have all been cameos but for Pellegrini, this charming man, handing him a starting berth would be more than sentimental.
They will take comfort from frustrating Madrid in their goalless draw, in which Rodri impressed in midfield, while Betis are hoping to have Sergio Canales back in contention having missed the past two matches off the back of three goals in as many games.
Chief creator Nabil Fekir is out for the rest of the season with an anterior cruciate ligament injury, so the onus could fall once again on Joaquin to roll back the years for Betis.
After scoring in the 3-2 defeat of Ludogorets in the group stage this term, he became the oldest player to achieve the feat in the history of the Europa League at 41 years and 56 days. His first appearance in England came in the Champions League at Chelsea in October 2005 in his first spell at Betis with his last coming in the Europa League a decade on at Tottenham.
But Joaquin is not done yet.
Ben Grounds
Mourinho trains sights on more Sociedad success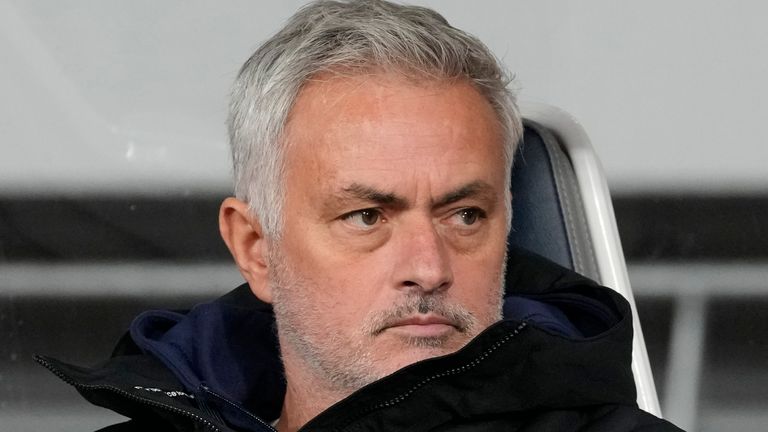 Roma vs Real Sociedad, kick-off 5.45pm
Jose Mourinho is rarely out of the headlines for long – and his quench for silverware has Roma well placed to prosper as the Europa League hurtles towards the business end. The Portuguese knows all about Thursday's opponents Real Soicedad, from his Real Madrid days.
Mourinho has never lost against Sociedad in his career, winning five games and drawing once. But the Basque outfit have been enjoying a very strong season in LaLiga, and currently sit in the Champions League places.
Sociedad have already beaten Manchester United at Old Trafford this season, so visiting a raucous Stadio Olimpico will hold no fear for a side that only appear to have collectively strengthened since the £63m sale of Alexander Isak to Newcastle. The evergreen David Silva returned from injury with a cameo appearance against Cadiz at the weekend.
The 37-year-old has struggled with a calf injury since the start of 2023, but Imanol Alguacil is ready to throw him in from the start him in Rome.
Mourinho, who was sent of for a third time this season recently against Cremonese, is going for a hat-trick of UEFA Cup/Europa League triumphs, and he can take plenty of comfort from his record in the competition as Roma look to build an advantage.
Mourinho has won 14 of his 16 home matches in the Europa League, though the only two games he has failed to win were against Spanish teams; Celta Vigo in May 2017 – 1-1 with Man Utd – and Real Betis this season – a 2-1 defeat.
Ben Grounds
Sevilla looking for distraction from LaLiga woes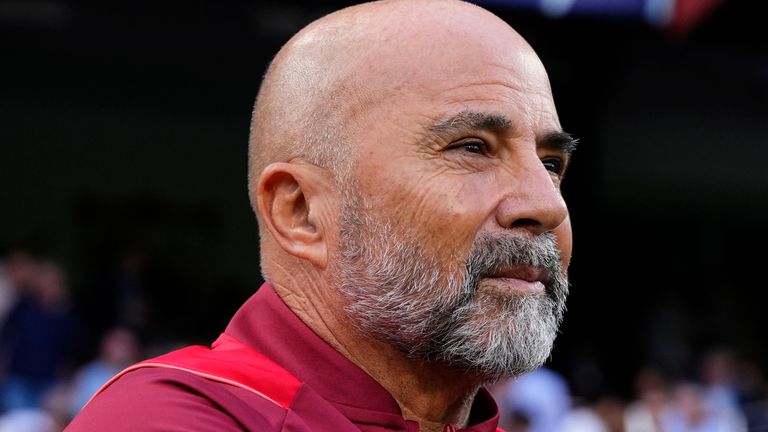 Sevilla vs Fenerbahce, kick-off 8pm
When you think of the Europa League, you think of Sevilla. The Spanish side have won the competition six times, whereas no other team can lay claim to more than three titles.
But when assessing the likely winners this season, it's hard to make the case for Jorge Sampaoli's outfit adding to their record haul.
After entering 2022 as LaLiga title contenders thanks to a strong start to last season, Sevilla drifted away during the second half of the campaign under current Wolves manager Julen Lopetegui, and their struggles grew this term to such an extent that Lopetegui was dismissed amid the prospect of a relegation battle.
Sampaoli – the bald-headed, tattooed bundle of anger and energy that oversaw Argentina's chaotic 2018 World Cup campaign – was brought in to spark a revival that hasn't properly materialised.
After eight wins in 12 games following the World Cup, Sevilla have drawn one and lost three of their last four matches, and find only goal difference separating them from LaLiga's relegation zone.
A return to Europa League action will perhaps provide a welcome distraction from their domestic toil, while even triggering memories of happier times.
On the other hand, a failure to eliminate Fenerbahce will only increase the darkness that is closing around Sampaoli and his underperforming side.
Joe Shread
Juventus vs Freiburg, kick-off 8pm
Historically, the gulf is vast. Juventus are two-time champions of Europe. Freiburg are into the last 16 of European competition for the first time. But the German side are fifth in their table while their illustrious opponents are eighth in theirs. This will be interesting.
Speaking to Freiburg goalkeeper Mark Flekken, it is a moment that he has been waiting his whole career for. Until he joined Freiburg in 2018, aged 25, the Dutchman had not even played top-division football let alone competed in Europe. His story sums up this team.
They are not superstars but they do have a plan. Juventus must watch out for set-pieces and they will need to be organised and together – because their opponents will be. Freiburg, the team from the Black Forest guided by Christian Streich, are a club united.
"They put a very big value on character," says Flekken. "They really search for those people who will fit in the group. It is one close team. It is not only talent. It is also hard work. That comes on top of everything. If you combine that with talent you can reach the sky."
Beating Juventus over two legs would be some achievement but Freiburg have already won 3-0 away to Olympiakos and 4-0 at Nantes. If they can keep it close in Turin, they will be optimistic ahead of the second leg – they are unbeaten at home since August.
Adam Bate