National banks dominate the consumer credit space. Still, credit unions and community banks are becoming an increasingly popular choice for issuing credit cards. The share of consumers with a CU or community bank card as their primary card rose from 8.3% in 2020 to 13% in 2023. Moreover, 24% of consumers said they would likely turn to these financial institutions for their next credit application.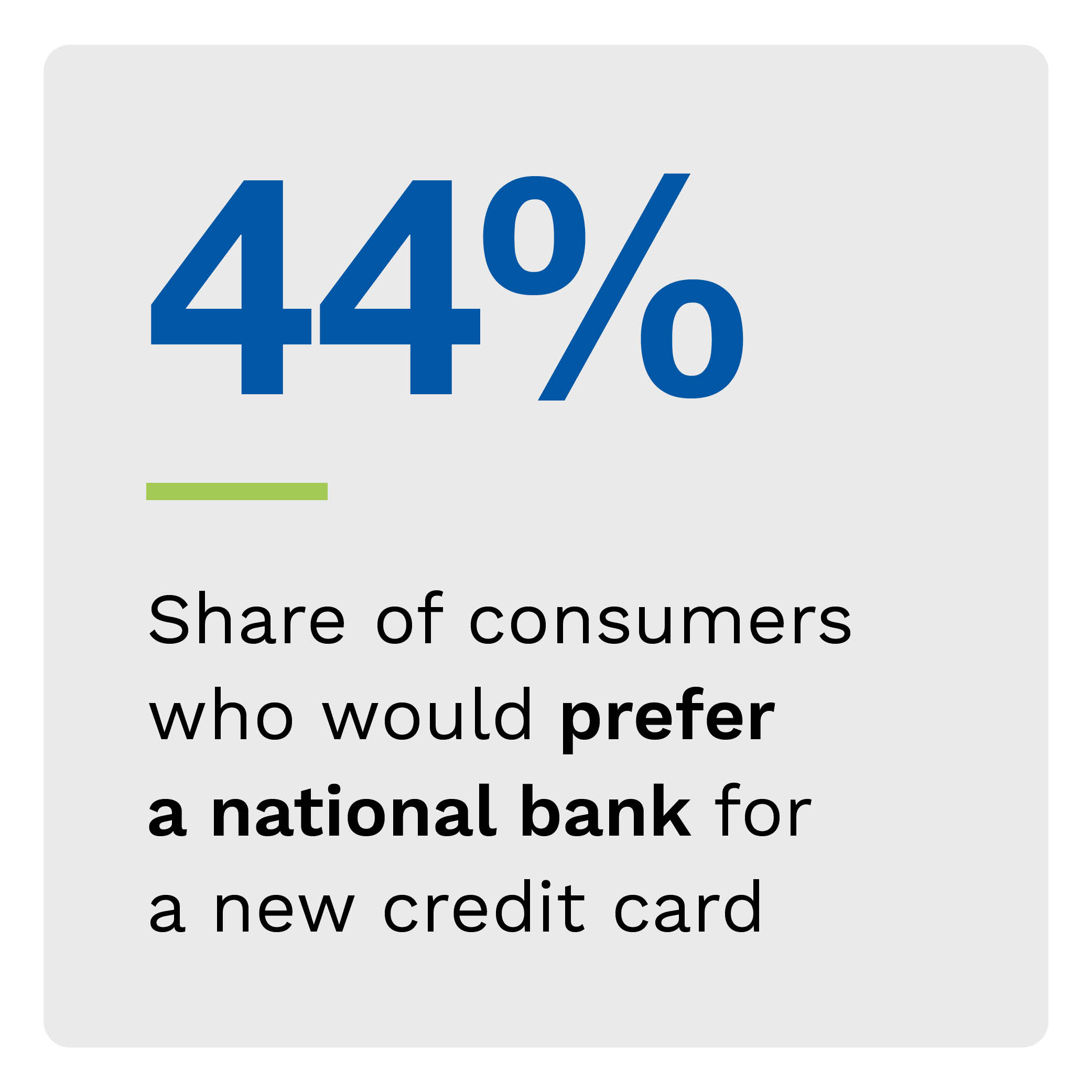 CUs and community banks can improve their appeal by offering the key features national bank cardholders value. These include rewards and cash back programs, the ability to split payments and adjustable spending limits.
These are just some of the findings detailed in "Credit Unions and Community Banks Gain Credit Card Issuing Momentum," a PYMNTS Intelligence and Elan Credit Card collaboration. The report examines the current state of play for consumer credit cards. It draws on insights from a survey conducted from Aug. 10 to Aug. 21 of 2,088 United States consumers to explore their evolving preferences surrounding card issuers.
Other findings from the study follow.
National banks issue the most primary consumer credit cards, especially to consumers who also bank with them.
Among U.S. adults with an actively used card, 68% reported that a national bank issued their primary card — the one they used the most. Other categories of FIs accounted for less than 10% each: 8.3% of cardholders had their primary card with CUs; 8.3% with regional banks; 5.1% with community banks; and 3.9% with digital-only banks. Although these percentages were relatively low, the shares of consumers with credit cards issued by these FIs have increased since 2020.
CUs and community banks struggle to attract high-spending non-revolvers to credit card options.
Just 8.7% of high-spending non-revolvers — a lucrative segment that spends heavily but does not usually carry a balance — said they would most likely choose a CU when applying for a new card. A mere 5.4% of this group said the same for community banks.
CUs and community banks can win a sizable share of national bank cardholders by offering key credit card features.
More than one-third of national bank cardholders would be highly likely to switch if smaller FIs offered the right features. Rewards and cash back programs represent the most impactful benefit overall, as 81% of national bank cardholders cited these as important, and 37% of this group would be highly likely to switch to a CU or community bank that provides cards with this feature. Other high-impact benefits include account alerts, autopay and websites and apps for monitoring balances and making payments.
To compete with national banks and expand market shares in consumer credit cards, CUs and community banks must focus on the features cardholders value. Download the report to learn how CUs and community banks can strategically leverage consumer interest to increase credit card users.